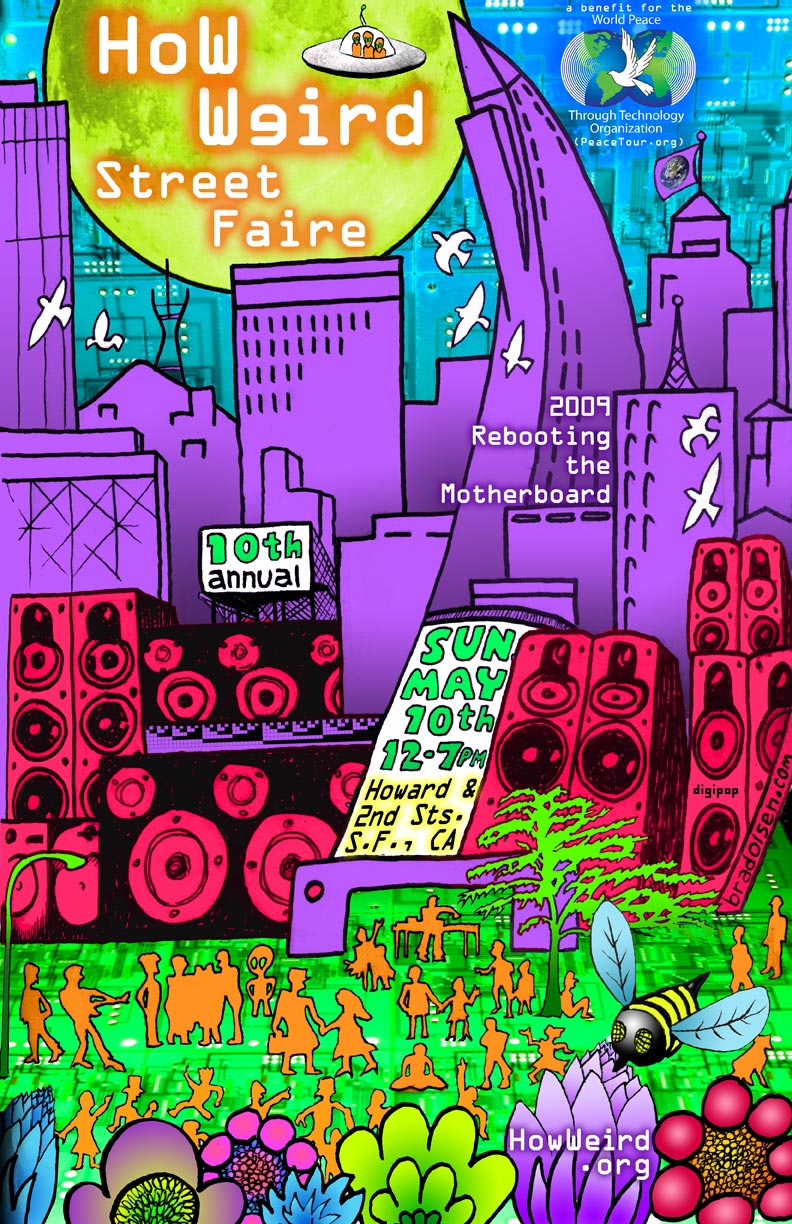 The 10th annual How Weird Street Faire will be Sunday May 10th from Noon to 7pm.
In its binary year, the faire seeks to rewire our way of thinking towards peace, by rebooting the motherboard. The How Weird Street Faire shows that peace can be fun.
There will be ten blocks of art and celebration, and ten stages of music. There will be performances and colorful costumes, vendors from around the world with unique and creative wares, non-profit organizations to educate and inspire, exotic food and drinks, and much more! And in honor of our tenth year, we are introducing a MAGIC STICKER, which gives back to the community for supporting the faire.
The How Weird Street Faire showcases many different types of electronic music. The music stages are produced by local collectives and music organizations working together for peace. This year will include stages by the Consortium of Collective Consciousness, Symbiosis, Kontrol, Sunset, Neuroweapon, Muti Music, Brass Tax, Temple Nightclub, Opel, Opulent Temple, Tantra, Groove Garden, Mystic Beat Lounge, Le Harem, and Earthdance.
This year, the How Weird Street Faire will encompass Howard Street between 1st Street and New Montgomery, 2nd Street between Mission and Howard, and all four blocks of Minna St. and Natoma St. off of 2nd Street. The new location, in the heart of the SoMa district, is a short walk to Yerba Buena Gardens and the museum district, as well as the Montgomery BART and several MUNI stops.