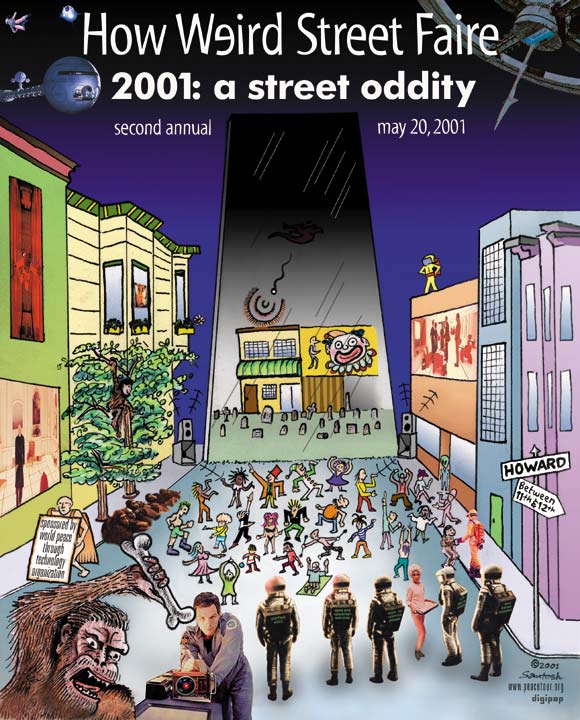 The 2nd Annual How Weird Street Faire will take place on May 20th, 2001 on Howard Street between 11th and 12th Streets, in San Francisco.
In the year of the new, true millennium the How Weird Street Faire borrows its theme from the movie classic "2001: A Space Odyssey." However, the How Weird Street Faire will subtitle this years' event "A Street Oddity." Featuring return performances from the How Weird Street Performers, Bay Area non-profit groups, public speakers, and vendors from around the world - all with a space theme, celebrating a futuristic brave new world.
Layfayette Street will again serve as a theatrical stage, or "Street Performance Alley," but this year will include a giant monolith, suggesting the lightseed of human consciousness. Reminiscent of the film "2001," costumed artists will be present throughout the How Weird Street Faire, giving frequent performances in the shadow of the monolith. Another performance will depict the recent demise of San Francisco's non-profit and artist spaces. Bookcasing both ends of the How Weird Street Faire are music stages featuring live acts and world-class DJ's to provide entertainment throughout the day. Unique vendors from several continents will showcase their crafts and services. Environmental activists and professional lecturers are scheduled for the May 2001 event. Between the stages, the How Weird Street Faire will host a forum for local non-profits to educate the public and enlist support for worthy causes. Like last year, all non-profit booth space will be donated free of charge.
The How Weird Street Faire is sponsored by the 501(c) non-profit group,
World Peace Through Technology Organization.