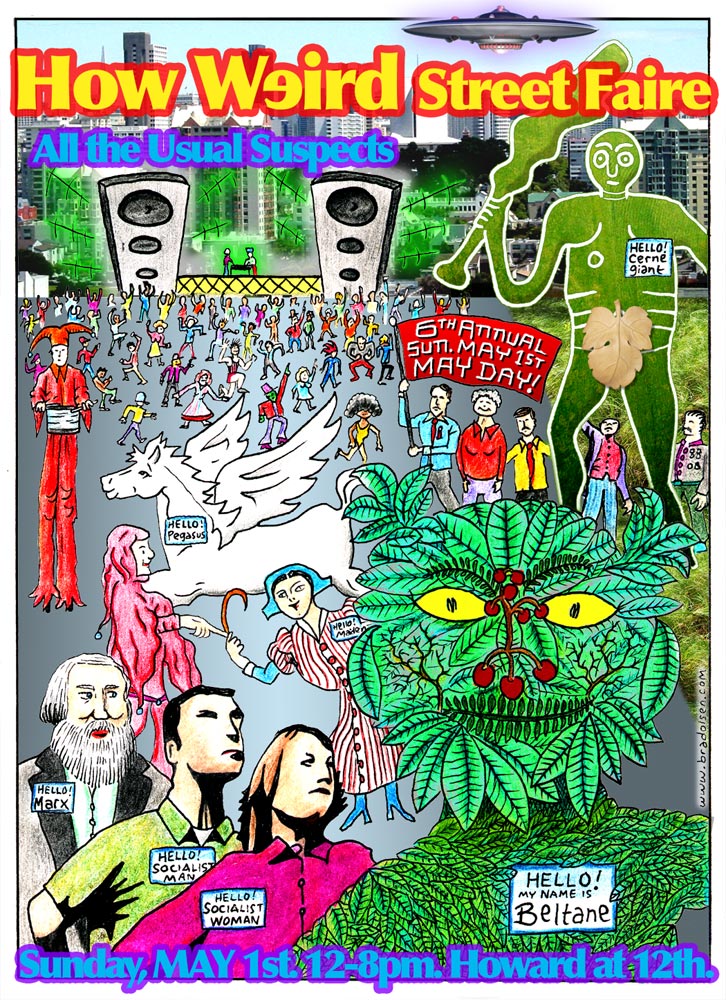 The Sixth Annual How Weird Street Faire will be Sunday May 1, 2005 with four city blocks with fun, entertainment, and education. The How Weird Street Faire is centered at Howard and 12th Streets, in the SOMA district of San Francisco. The center will be a Peace Pavilion, a place to relax, connect, and learn about fostering peace. This year we will host a global KidCast for Peace, where kids will be able to communicate with other kids about peace, and learn digital storytelling tools. Music is the most universal language, able to transcend political and cultural differences. The How Weird Street Faire is America's longest running electronic music street festival. This year we present some of the best electronic music in the country, bringing the legendary San Francisco underground music scene out on to the streets. There will be even more music and more styles, there is something for everyone!
There will be music stages by:
Tantra/M.o.E./PsyBooty/Ceiba
El Circo/Get Freaky/Fusion
Sound of Mind/Moontribe/Xeno
Sunset/Naked Funk/Pacific Sound System
Unimog/Space Cowboys
Low Pro Lounge with capoeira and breakdancing artists
A Performance Stage by Anon Salon and Opel
and much more!!!
There will also be vendors from around the world, providing unique and interesting wares. Environmental non-profits will focus on our need for peace with the earth. Street performances and artists will entertain throughout the Faire. Costumes and festive attire is strongly encouraged, and there will be a Fashion Show for Peace. The How Weird Street Faire is an assortment of collectives and individuals collaborating together in sound and art, uniting in a vision of peace. It is also the annual fundraiser for the non-profit World Peace Through Technology Organization. Please join us!
6th annual How Weird Street Faire
DATE: Sunday, May 1, 2005
TIME: 12pm to 8pm
LOCATION: Howard & 12th Streets, San Francisco
ADMISSION: Requested donation of $10 ($5 in costume, kids free)
All proceeds benefit two Bay Area non-profits.