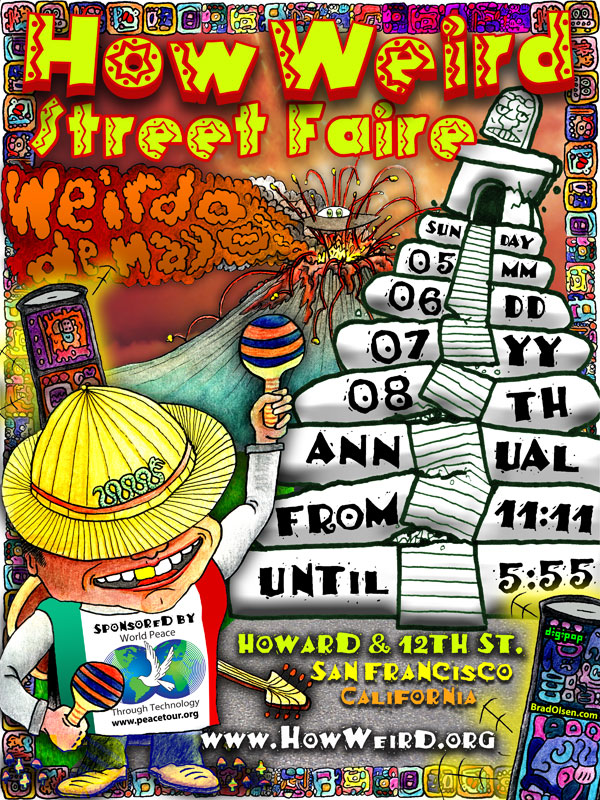 The How Weird Street Faire is an experiment in creating peace by the World Peace Through Technology Organization. It is a meta-community formed of the diverse music, art, political, and social communities of the entire San Francisco Bay Area, working together and finding similarities instead of differences.
For the eighth and last time, our traditional home on Howard Street will be transformed into a festival of peace. The How Weird Street Faire is being forced to relocate due to its overwhelming success, so it's leaving the neighborhood in style - featuring five city blocks of high quality music, art, performances, vendors from around the world, and much more. Art and decor will be provided by Anon Salon. Music will be provided by CCC, Sunset, Om, Tantra, Symbiosis, Earthdance, Harmony Festival, Lowpro Lounge, Dub Beautiful, False Profit, and Music Without Borders (El Circo, Get Freaky, Muti, and Raindance).
And for the first time, the How Weird Street Faire will be represented as a meta-world environment in Second Life. Through the virtual reality of Second Life, people will be able to participate in the faire from all over the world. Check back here for details.
The How Weird Street Faire attracts a wide range of people; from children to senior citizens, and everyone in between. There are artists and activists, families and freaks, city dwellers and suburbanites, and people from every part of the world. There is also a wide range of musical and artistic styles represented at the faire. Bringing these all together, in the name of peace, is the experiment. And from the reactions of past participants, it has been an overwhelming success.
The How Weird Street Faire is going green, as one of this year's themes is sustainable technology. All seven dance stages will be run on bio-diesel this year. Recycling and composting will be provided by Green Mary, including educational materials. This year's faire will generate almost zero waste. And there will be exhibits and carnival games on sustainability. The faire will be documenting the process of going green, so that they can teach other events what to do.
Please bicycle to the faire or take public transportation. There will be a bike valet service provided by the SF Bicycle Coalition. The faire is located two blocks south of Market Street & Van Ness.
The Main Entrance is at 12th Street and South Van Ness, San Francisco, Earth. Requested donation of $5 in costume, or $10 without (kids free). All ages welcome. Colorful costumes strongly encouraged! All proceeds benefit two Bay Area non-profit organizations.
The How Weird Street Faire is a project of and fundraiser for the non-profit World Peace Through Technology Organization (www.peacetour.org), which is planning a peace event in Mt. Shasta on 7/7/7.
Check back here regularly for more information. And expect some surprises at this year's faire!