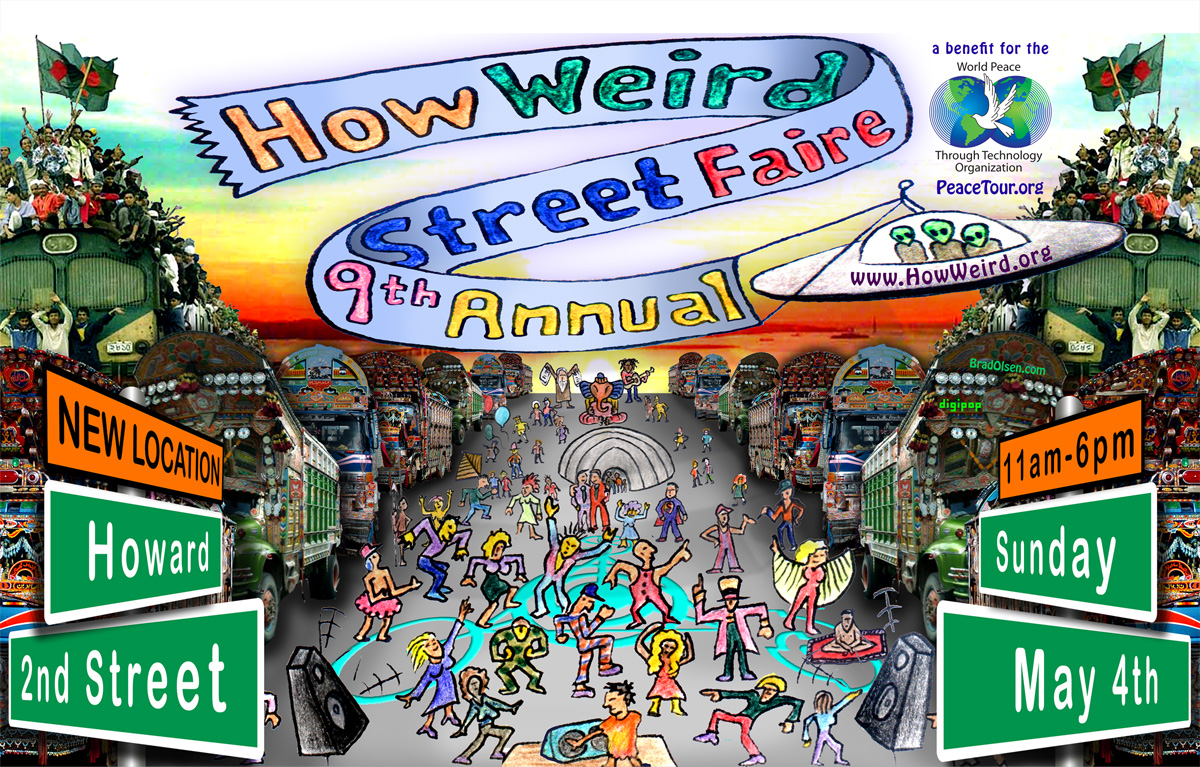 Sunday May 4, 2008 — 11:11 am to 5:55 pm — San Francisco, Earth
EXODUS! WE'RE BACK AND MOVING TO A NEW LOCATION!
The How Weird Street Faire is moving 10 blocks down Howard Street, but continues to bring together a diverse assortment of electronic music styles by collaborations of collectives and artists working together for a celebration of peace. You are invited to join us in starting a new era!
There will be nine stages of music during the day, seven city blocks filled with art and celebration, food and vendors from around the world selling unique and creative wares, non-profit organizations to educate and inspire you, performance artists and thousands of people in colorful costumes dancing in the streets, and the opportunity to meet members of your extended family and forge lasting connections.
The day is open to all ages, with requested donation of $10 (or $5 in costume).
And there will be a special educational component during the day at Temple, located on Howard Street. Technology that fosters peace and sustainability will be exhibited, and there will be talks and interactive workshops. So come inside from Noon to 4:30pm to be inspired.
Introducing... How Weird @ Night, from 6 pm - 2 am!
For the first time this year, the How Weird Street Faire will incorporate a full evening program into the festivities with "How Weird At Night". At 6pm, the faire moves indoors to several prime locations located immediately within the faire site footprint, and one only two blocks away. Stages from the faire will be hosting music and other performances at venues include Club NV, Temple, Supperclub, 111 Minna Gallery, and more. The evening venues are 21 and over only. Full details will be posted on the website, including additional venues, schedules, and a map of all the activities.