I live near Baker Beach in San Francisco. Sometimes when I am down there I feel the urge to create art. In 2008, I constructed this organic shrine made from driftwood, seaweed and other items that washed ashore. Here is a Quick Time Video of me explaining what the art piece means.
Click on any image to go to a catalog page of similar images.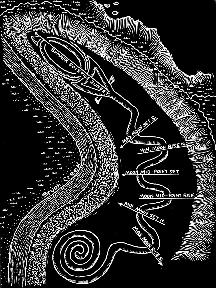 I have been an artist my entire life, largely influenced by my mom who is an amazing watercolor painter, among other talents. She encouraged me to draw from a young age and take art classes. I graduated Illinois State University with a BA in fine art, as well as a BS in Business Marketing. Upon graduation I thought about being an advertising executive. Travel changed all that. Now I'm an artist for life.
Click here to see MAPS
---
Click on Far East photos, India photos, Southeast Asia photos
---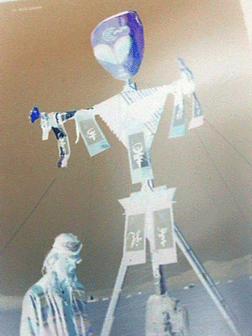 One of my favorite outdoor events is the annual Burning Man art festival held in the northwestern Nevada desert. "Black Rock City" emerges from nothing into the fifth largest city in Nevada over the Labor Day weekend when the event reaches full bloom. 30,000 + artists converge for the best party on planet Earth. Bar none. Every traveler owes it to themselves to attend Burning Man at least once in their lifetimes. I go every year because it is a different experience each time and the art gets bigger and better. I have gone every year since 1995. I truly feel Burning man embodies the best of human potential. The motto is "No Spectators" — encouraging all to be participants. Thus everyone becomes art in a way, all engrossed in a desert spectacle that must be seen to be believed.
Click here to see Burning Man art projects.
---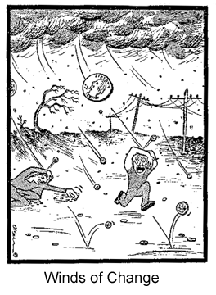 There was a time when I wanted to be the next Gary Larsen of "The Far Side" fame. Actually, I still would like to be, but now it seems those aspirations have been eclipsed by others. In the summer of 1991 I had a few thousand dollars saved up with a nice drawing studio in Santa Cruz, CA, so I decided to draw this series of single panel cartoons called "Earthlings." I drew close to 100 photo-ready cartoons, but I was not able to find a syndicate to buy them. So instead I moved to Japan and started my fabled world tour.
Click here to see a collection of the Earthlings cartoons.
---
Click on any poster image to see a larger blowup.
---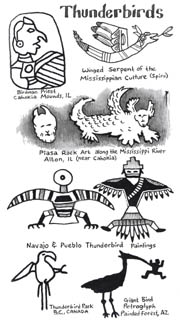 And like any self-respecting artist, I have some leftover images that never amounted to much. But what the heck, let's give them life here.
As an endnote, almost all of the drawings I did while on my three year world tour were stolen from my car when I first arrived in San Francisco. It was a shame to relegate them to lost, along with my Egypt photos and negatives, but that's life for you. As you can see, I've kept busy and I've got some other good stuff to show. I sincerely hope you liked navigating this page and checking out some of my art.
Click here to see my various art pictures page.