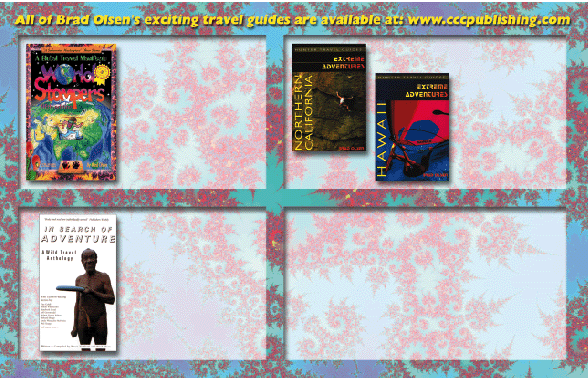 Consortium of Collective Consciousness Publishing is an enterprise started by Brad Olsen in 1995. We publish inspirational travel guides. A comprehensive website devoted to this enterprise can be found at cccpublishing.com. Most of our titles are available in downloadable PDF format. Help save a tree!
---
To stay on this site click to access the complete CATALOG of all Brad Olsen's travel titles.
Extreme Adventures Hawaii and Northern California
The first travel guide series developed by Brad Olsen.
236 pages * $13.95
---
Brad Olsen is busy developing other book projects for CCC Publishing. Click on Current Projects to read more.
World Stompers: A Global Travel Manifesto (5th ed.)
The book that made Brad olsen famous!
ISBN 1-888729-05-8
* 288 pages * $17.95
In Search of Adventure:
A Wild Travel Anthology
Over 80 authors contribute to this classic travel anthology.
ISBN 1-888729-03-1
* 465 pages * $17.95
Brad Olsen has set out to document all the spiritual sites in the world in his new "Sacred Places: 108 Destionations" series. North America and Around the World (both 2nd editions) are current releases.
Also Released:
Sacred Places of the Goddess
Sacred Places Europe